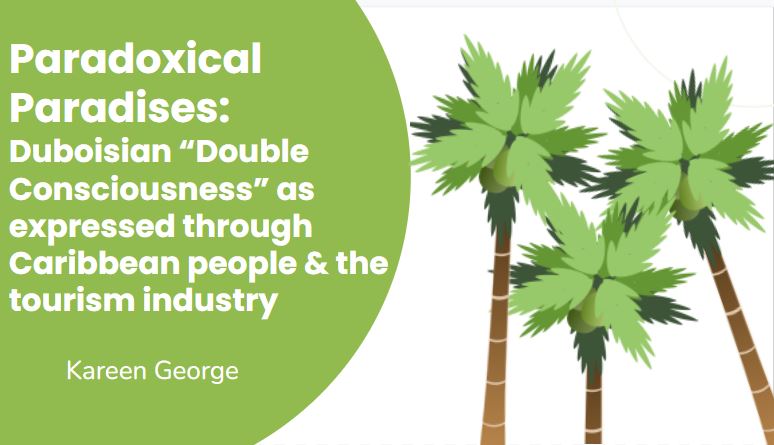 Paradoxical Paradises
Author:
Kareen George '22
Co-Authors:
Faculty Mentor(s):
Rafe Dalleo, English Literary Studies
Funding Source:
Humanities Fellowship
Abstract
"This independent study hopes to investigate how the nuances of tone and word choice in tourism-related Caribbean literature correspond to the true attitudes of Caribbean natives. I apply W.E.B Dubois' concept of the double consciousness of oppressed people as a lens for understanding Caribbean people's participation in the industry. The tourism industry, particularly the way it operates in the Caribbean, is notably exploitative. The demographics of the native Caribbean people versus the tourists gives rise to an interesting power dynamic, reminiscent of colonialism.The success of the Caribbean's tourism industry is largely due to its' citizens' knowledge of this exploitation and the way they are able to manage their emotions and behavior in order to maintain the false image of perfect paradise that visitors expect. In order to acquire a holistic understanding of this dual sided disposition, an analysis was performed on pieces from three different genres of Caribbean Literature, namely Prose, Drama and Poetry. The three selected pieces of literature for this study are A Small Place by Jamaica Kincaid, Smile Orange by Trevor Rhone and "On a Coral Cay" by Marion Bethel. These three pieces give an account of three different forms of the same Caribbean attitude of double consciousness as it relates to the Tourism industry. " For my presentation, I will be focusing on Rhone's Smile Orange, as it is the piece which most embodies this notion of double consciousness, as expressed through humor.
https://kalmansymposium.scholar.bucknell.edu/index.php?gf-download=2022%2F04%2FIndependent-study-presentation.pptx&form-id=1&field-id=20&hash=ddbaf78d53e37c4797668b212abd9b3dce15402c43d90dd72f26a8ce4f575230