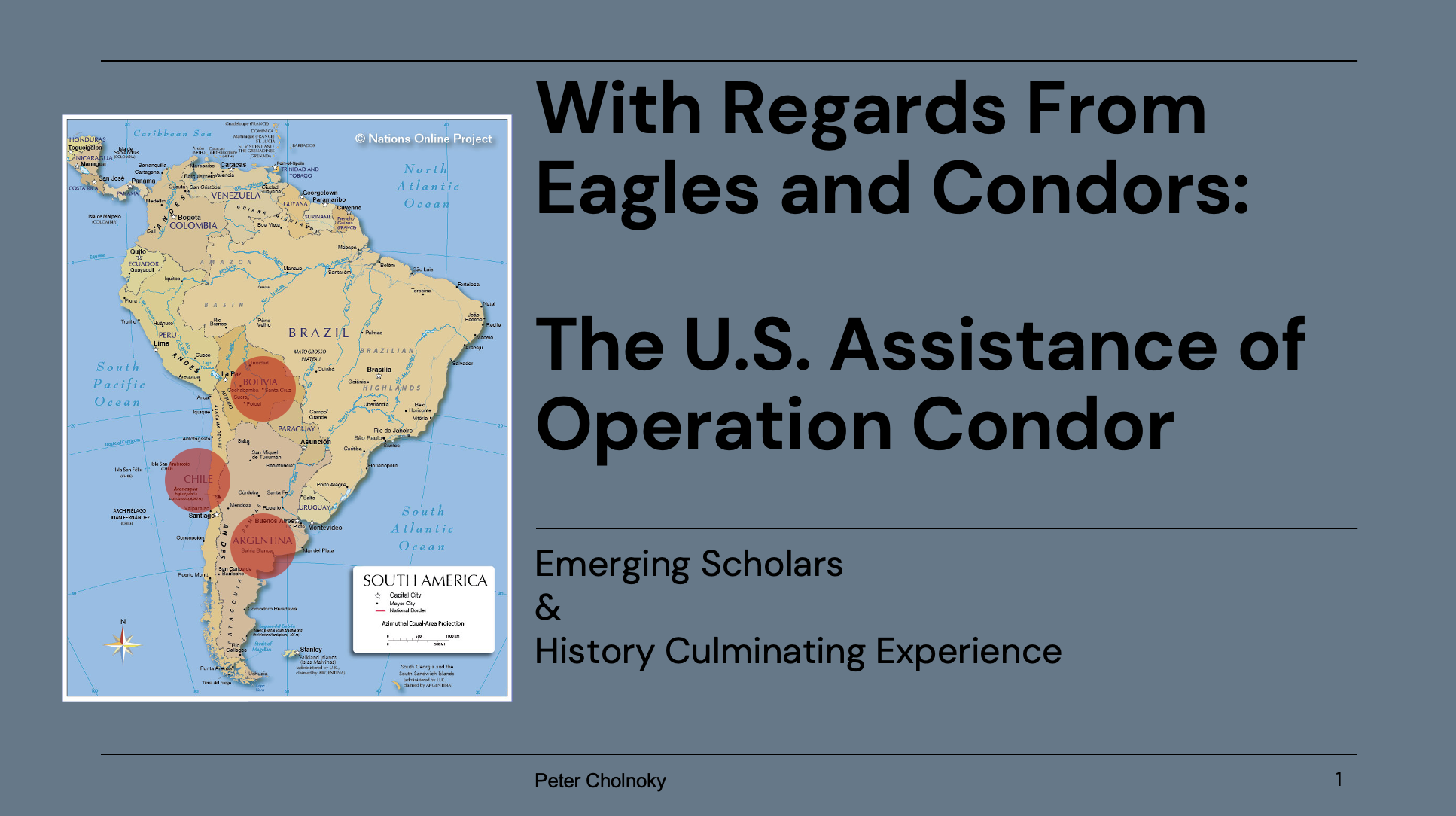 With Regards From Eagles and Condors: The U.S. Assistance of Operation Condor
Author:
Peter Cholnoky '22
Co-Authors:
Faculty Mentor(s):
John Enyeart, History
Funding Source:
Bobko-Dennis Fund
Abstract
Ranging from plenty of geographical backgrounds, the U.S. secret invasion of countries has been subject to heavy investigation and documentation. In particular, they've traditionally focused on countries that were having an increase in socialist policies. While civilians of these countries have often known of some level of foreign involvement in assassinations, coup d'états, and wildly inaccurate propaganda, that information has been largely drip fed to the public and scholars under the guise of national security. In fact, covert operations in Latin America have largely relied on first hand accounts until significant push is made for the Central Intelligence Agency and other government departments have had orders to publish documents. Specifically in the case of Operation Condor, documents in the last five years have made an extraordinary effort in piecing together a secretive and elusive part of history. Documents ranged from propaganda tactics to named targets of torture and assassination. Scholars coordinate between primary documents published across the major Condor operating countries alongside documents released by the CIA, FBI, the Department of the Interior, and others to paint a picture of what really happened during those years. I looked to investigate a series of primary documents released in 2019 in conjunction with research into covert operations during the earlier years of the Cold War in order to construct a more cohesive account of how involved the U.S. was into Operation Condor, and exactly what steps were taken to make sure that Operation Condor was as successful as possible.
https://kalmansymposium.scholar.bucknell.edu/index.php?gf-download=2022%2F04%2FPeterCholnokyPresentation.pptx&form-id=1&field-id=20&hash=3a7032f62226b1b5c3c0ab3c71f35ba76b802eafc334e41a4bbd17fca938f372