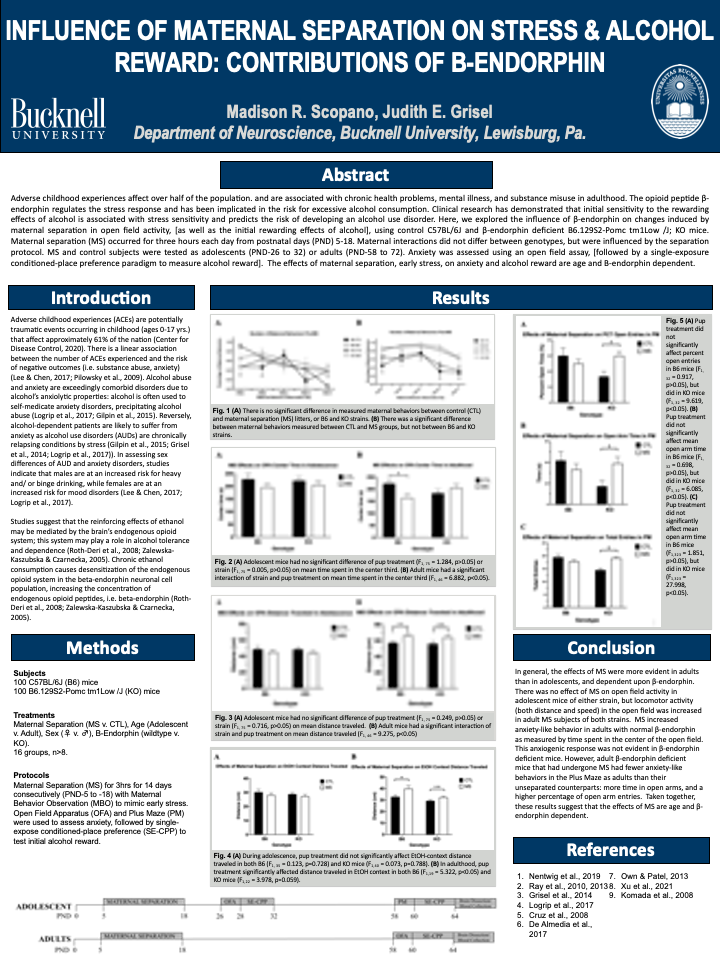 INFLUENCE OF MATERNAL SEPARATION ON STRESS & ALCOHOL REWARD: CONTRIBUTIONS OF B-ENDORPHIN
Author:
Madison Scopano '22
Co-Authors:
Faculty Mentor(s):
Judy Grisel, Psychology
Funding Source:
Program for Undergraduate Research
Abstract
Adverse childhood experiences affect over half of the population. and are associated with chronic health problems, mental illness, and substance misuse in adulthood. The opioid peptide β-endorphin regulates the stress response and has been implicated in the risk for excessive alcohol consumption. Clinical research has demonstrated that initial sensitivity to the rewarding effects of alcohol is associated with stress sensitivity and predicts the risk of developing an alcohol use disorder. Here, we explored the influence of β-endorphin on changes induced by maternal separation in open field activity, [as well as the initial rewarding effects of alcohol], using control C57BL/6J and β-endorphin deficient B6.129S2-Pomc tm1Low /J; KO mice. Maternal separation (MS) occurred for three hours each day from postnatal days (PND) 5-18. Maternal interactions did not differ between genotypes, but were influenced by the separation protocol. MS and control subjects were tested as adolescents (PND-26 to 32) or adults (PND-58 to 72). Anxiety was assessed using an open field assay, [followed by a single-exposure conditioned-place preference paradigm to measure alcohol reward].  The effects of maternal separation, early stress, on anxiety and alcohol reward are age and B-endorphin dependent.